Cynthia Derosier oo|00 Ruth Moen oo|00Kahu Wendell Silvaoo|00Cipriano Mauriciooo|00Mike Eckhardtoo|00Teri Freitas Gormanoo
Tim Anderson |00 Rob Kinslow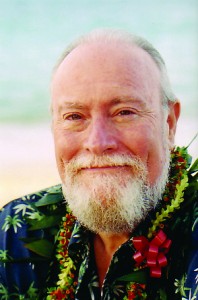 Tim Anderson, Associate
30+ Years Expertise: Brand Development, Copy writing, TV and Video Creative Production
Tim brings more than 35 years of creative branding experience to The Good Juju Company. He has worked for major creative forces like Leo Burnett, Tracy-Locke/BBDO, GSD&M and Ogilvy & Mather (now Ogilvy). He has helped shape brands such as United Airlines, Southwest Airlines, Frito-Lay, Kraft Foods, Heinz new products, Pizza Hut, Sub Zero/Wolf and the State of Hawaii as a leading world destination. Along the way, Tim also co-lead the development direct response capabilities for several clients and agencies.
As Managing Director and Creative Director of Ogilvy, Hawaii, Tim led the creative development for the Hawaii Visitors and Convention Bureau (HVCB), Hawaiian Airlines, Hawaiian Electric Company (HECO) and other local accounts.
In 2005, Tim founded Genesis Pacific LLC, a creative and strategic planning consulting firm in Honolulu.  Genesis Pacific has focused on on sustainable development and socially conscious communications. It's most notable projects include the creation of The Green Issue of Hawaii Home and Remodeling. Tim has served as Executive Producer on the documentary Ingredients Hawaii. Hawaii. Other activities have ranged from projects for the Hawaii Convention Center, Hawaiian Electric Company and Hawaii Department of  Health to writing/editing two books in The Spirit Series with Cynthia Derosier.
Tim has won many regional and national awards including Clios and National Addys, was selected to Adweek's All Star Team for TV writing, and received a Special Jury Award from the Houston International Film Festival.