CHALLENGE: How do you get 100 schools to rally around a single vision AND get community support?
The Oakland School District (OUSD) had suffered massive budget cuts and critical programs such as art, physical education and music were being eliminated. Schools and the communities they served needed to rally political support.

SOLUTION: Vision Story Map – show your vision, get people involved.
This OUSD Story Map served as an interactive education and outreach piece and explains in a compelling way how the eliminated classes were critical and not just "extra-cirricular".  Printed as a large scale poster, it was taken throughout the district to communicate the vision and plan for the schools. It depicts the community vision for their future and shows how Social Emotional Learning (and the courses that facilitate SEL) is critical to student success.  Steps they needed to take to reach their target vision are shown on the left and includes empty talk bubble fields where community members, politicians can post questions and comments during events and help direct community conversations and meeting focus.
Grove Consultants International Began the Process: 
Facilitators from The Grove Consultants International work with school groups to identify and clarify their vision, next steps and critical elements.

Good Juju Made it Beautiful:
Good Juju was brought in to help The Grove design and create the final art. Several concepts were explored.
[column col="2/3″]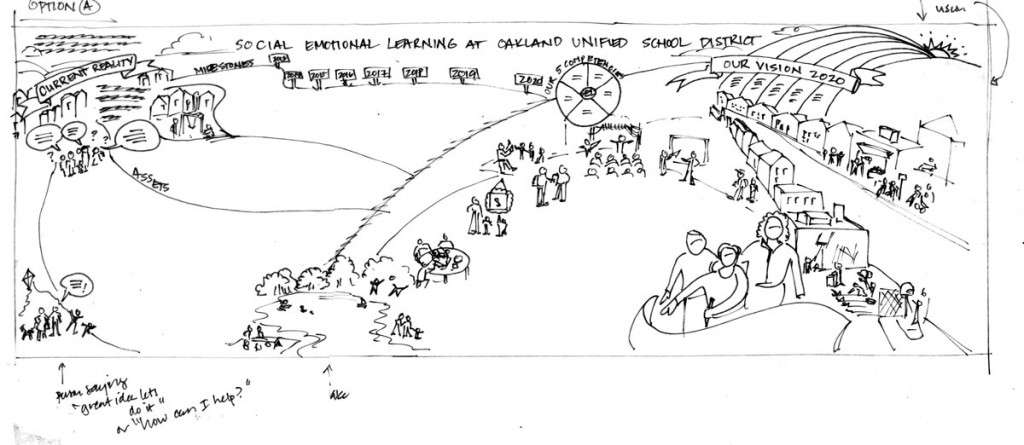 [/column]
[column col="1/3″]
Design Concept A:
This Landscape format provides significant text space to detail the journey: resources, assets and community.
[/column]
[column col="2/3″]

[/column]
[column col="1/3″]
Design Concept B:
This "Energy Swirl" depicts the 5-Core Competencies Wheel as the engine that transforms the energy of the community resources to generate the vision.
[/column]
[column col="2/3″]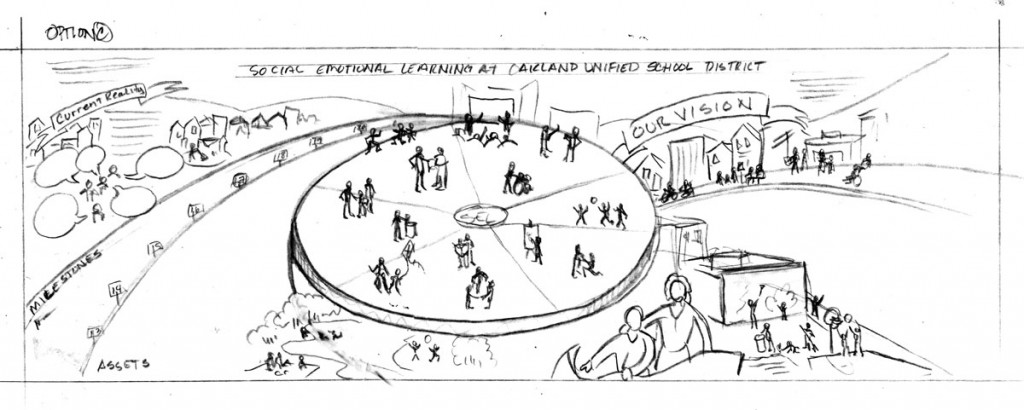 [/column]
[column col="1/3″]
Design Concept C:
This format highlights the 5-Core Competencies Wheel as a main component of the vision.
[/column]
[column col="3/3″]
Initial drafts presented to community groups. They were invited to comment on the plan and offered their support and resources on wall size posters.
[/column]
[column col="2/3″]

Moving From Ideas to Action: 
Once people could see the vision and process, and saw how they could get involved, they readily offered their insights, support and resources.  Oakland Community members offered their support and resources by signing up on this large wall template posted at community forums. Good Juju templates generated active involvement, encouraged commitments and collected list of resources in an organized an engaging way.
[/column]
[column col="2/3″]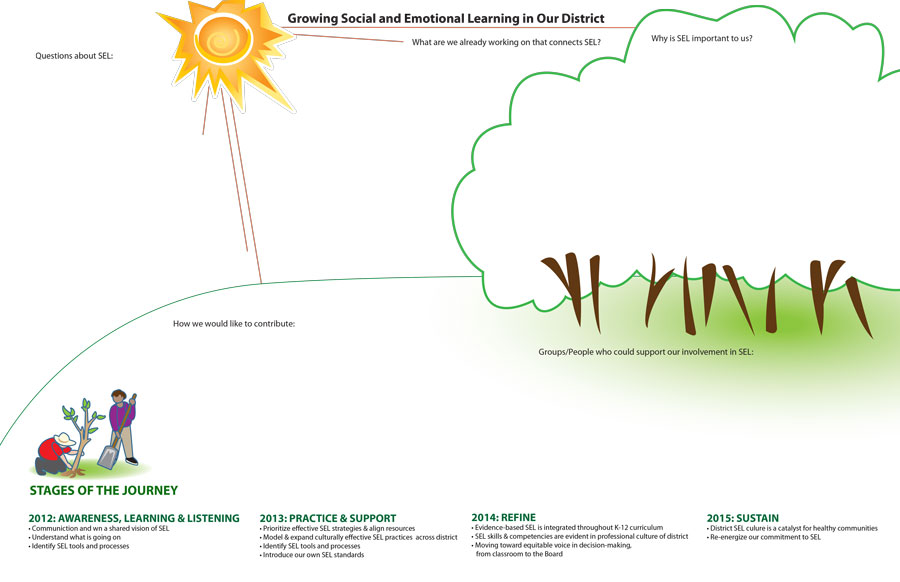 [/column]